Another Library Book
Mission Bay Library Benefit Edition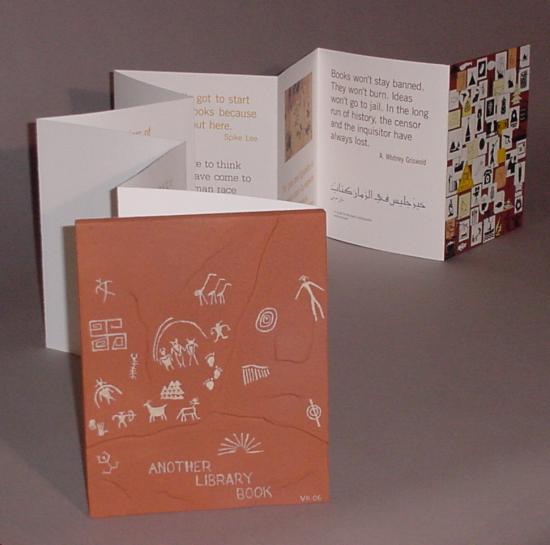 Another Library Book, 2006
Hand-Painted, Carved Polyurethane Foam, Paper, High-Resolution Inkjet Printing
10 inches by 8 inches by 1 1/2 inches (closed); 10 inches by 8 inches, variable width (open).
Edition of 8, 3 Artist Proofs
The $2650 raised by the sale of this book went to the Mission Bay Branch Library Improvement Fund.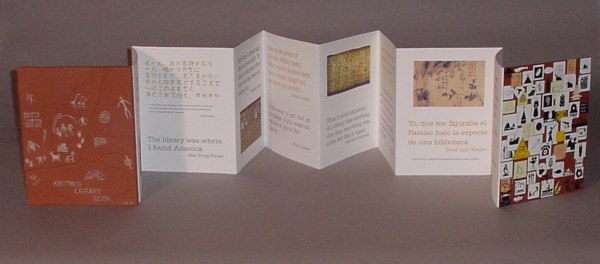 This book was created to celebrate the sculpture "A Library Book" at the Mission Bay Branch Library in San Francisco.
It contains the original photographic images from which the panels of the illuminated sculpture were carved
as well as the quotations that are the personal favorites of the artist. It was particularly gratifying
to include the most popular of the quotations submitted by the publice: "If you want to get laid, go to college.
If you want an education, go to the library," attributed to Frank Zappa.
The front cover is a miniature version of the front "cover" panel of the sculpture while the rear cover
retains all of the images originally chosen by the artist.
The Friends of the San Francisco Public Library funded the production of this edition.